Here is a nice game I played on ICC last night. You can play through the whole game and I've included some key positions with comments.
Position after
8.Nh3
: Sort of a King's Indian Samisch. White plans on lining up a battery on the c1-h6 diagonal, castling kingside, and going for a kingside pawn storm attack.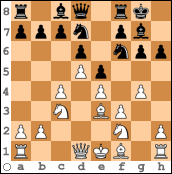 Position after
12...h6
: Black would like to play 13...Nh7 and then prepare ...f7-f5 at some point to break in the center. However, this plan doesn't quite work in this position because
13.Qd2
forces
13...Kh7
to protect the h6 pawn.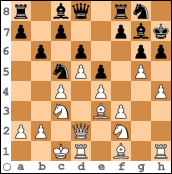 Position after
16...Ng8
: White can't quite take on h6 yet, and Black threatens to play 17...h5 to close up the kingside. White finds the solution in
17.h5!
preventing Black from shutting the door on White's kingside attack.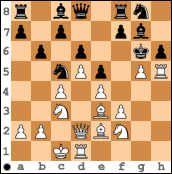 Position after
19.Be2!
: Offering up the rook. The idea was to trade the rook for the opportunity to bring the rest of my pieces into the action. At this point, check out the sequence on the game replayer to see how I bring in the rest of my army to make the final assault on the king, most of the moves with tempo.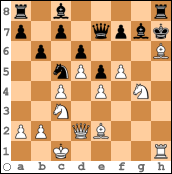 Position after
25...Rh8
: Black resigned. White has many ways to win here. Perhaps the cleanest is 26.Bg5+ Kg8 27.Rxh8+ Kxh8 (or 27...Bxh8) 28.Bxe7 and White is way ahead.
Lessons from the game:
1. Typical plans in opening systems need to be checked for tactical soundness before being played "automatically" - e.g. Black's common King's Indian plan of ...h7-h6, ...Nh7, and ...f7-f5.
2. During a pawn storm against a castled position (such as in the KID Samisch, the Pirc 150 attack, or in some variations of the Sicilian Dragon for example), don't allow your opponent to lock up the pawns and "shut the door" on your attack.
3. During a direct attack on your opponent's king, it is worth material to gain time to bring in reinforcements to the attack.
I hope you enjoyed the game. I certainly enjoyed playing it. As always, feedback is welcome and appreciated.